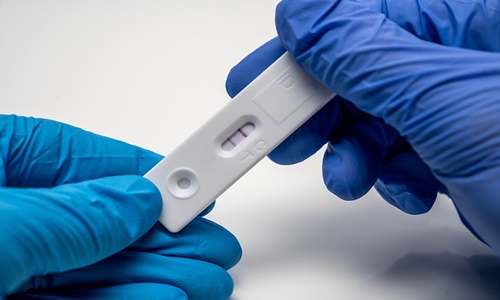 Genes2Me has recently announced the successful launch of a self-test rapid antigen test kit, CoviEasy for COVID-19, that provides faster results in 10 minutes.
Supported by AI-determined Mobile App, the IVD product offers concordance of nearly 98% accuracy and sensitivity.
CoviEasy has undergone several quality checks at the ICMR appropriate validation centre and received acceptance from CDSCO India.
As per credible sources, the CoviEasy test can be undertaken by following the simple instructions provided on the Mobile App (available on both iOS and Android platforms), resulting in automated reporting of test results from the mobile app itself.
The cost of the kit is said to be just $3.19.
The CoviEasy test includes a couple of steps as it is conducted with a nasal swab sampling, where the swab is injected into the nostrils. The swab must be immersed in the tube and swirled about eight to ten times in the extraction buffer. The buffer is then released onto the test equipment, showing the test results as negative or positive.
The test device is embedded with a QR code for patient data entry and report generation.
While commenting on the product launch, Neeraj Gupta, Genes2Me Founder and CEO, said that as now many people are opting to get the test done at home to detect whether they are positive or not, accuracy becomes the most critical and non-negotiable factor.
Neeraj added that the firm understood this need of the hour and devised a test kit which is more than 98 per cent accurate and effective.
The CoviEasy kit will be offering almost the results and effectiveness of RTPCR with the practicality of an at home self-test kit. The firm plans to aid society with the most accurate equipment in India and suffice the need with the advanced manufacturing unit.
Source Credit - https://www.expresshealthcare.in/news/genes2me-launches-covieasy-self-test-kit-for-covid-19/435370/