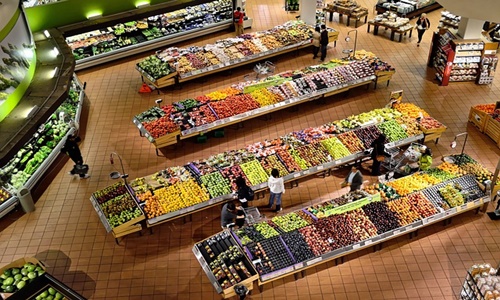 Britishers who rely on the budget-friendly aisles of supermarkets reportedly saw the biggest increases in food prices in the months leading up to Christmas, significantly outpacing those for luxury as well as premium brands, as per a survey.
According to the survey, the average cost of budget items increased by 20.3% in December when compared to the same time last year, while the price of luxury products increased by 12.6% and branded goods increased by 12.5%.
Based on the most recent British Retail Consortium's data, overall food price inflation reached 13.3% in December.
The survey also indicated that price hikes for grocery essentials such as butter and spreads, milk, and cheese were substantially larger - 29%, 26%, and 22%, respectively, throughout all supermarket chains.
Besides, bakery products increased by 19.5%, and pastries, savory pies, and quiches increased by 18.5%. Chocolate items experienced the lowest inflation, with average price increases of 6.5%.
The highest individual price hike across all supermarket chains was witnessed by Quaker Oat So Simple Simply Apple (8x33g) at Asda, which climbed 188% from December 2021 to 2022, from £1 ($1.24) to £2.88 ($3.56) on average.
Aldi and Lidl are two cheap retailers that customers have turned to in an effort to save costs as the cost-of-living problem has worsened.
However, those retailers' narrow profit margins have limited their ability to adjust their pricing in response to growing costs, causing them to do so more quickly than their larger competitors.
In December, prices at Aldi and Lidl increased by 20.8% and 21.1%, respectively, versus 13.1%, 13.7%, and 15.4% at Tesco, Sainsbury's, and Asda.
Lidl and Aldi continue to be generally less expensive than their larger competitors on comparable products, thus the financial damage to consumers' pockets was probably not as great.
Meanwhile, several supermarket chains disputed the survey's findings, claiming that the products studied did not accurately reflect inflation in their stores.
Source credit: https://www.theguardian.com/business/2023/jan/18/cost-of-supermarket-budget-brands-rose-203-in-december-survey-finds